July 11, 2018
I know It Hurts, But Dear, It's Time For Me To Walk Away And Move On
Who would've thought that such a thing could ever happen to us? We didn't plan this. What we felt can't be described with words. We were connected on a deep level. I could hear your silent thoughts, your deepest feelings. We weren't two people loving each other – we were ONE.
We believed our relationship was stronger than anything in the world. We believed we'd be together forever. I couldn't imagine my life without you. You were everything I ever wanted and needed.
We envisioned our future together. We imagined the house we'd live in and planned the names we'd give to our kids. We imagined our home where we'd grow old together. Our perfect home.
We knew everything about each other. I knew all your insecurities and fears and you knew mine. But we weren't afraid of them because we knew we had each other. Whenever you felt sad or was going through rough times, I was the one who stayed by your side and held your hand. I never missed a day to tell you how much "I love you." And I heard those words from you time and time again.
But, apparently, that was it. Something happened and broke us apart.  We no longer felt the connection between us. Things became superficial, shallow. It seemed as we'd exhausted all topics for discussion. We stopped having the meaningful, inspirational, fun conversations we used to have before.
I didn't want to give up on you. But now, it looks like it was inevitable. You stopped looking at me. You neglected my feelings and needs. You never cared to ask me how my day went. You lost interest in me. You gradually distanced yourself from me.
You let your worries and problems become more important to you than me. Whenever I asked you if you needed anything and told you that you could always rely on me, you'd fly off the handle. You'd tell me how clingy and boring I was. And all I wanted was to see you happy.
Yet, you never realized that. You never saw the person who were next to you. You stopped appreciating my unconditional love and undivided attention I gave to you so unselfishly.
Although you hurt me many times, I stayed with you. I tried hard to make things work between us because I couldn't imagine my life without you.
But, while trying to save our relationship I lost a track of myself. I prevented myself from seeing the truth – the truth that I deserved more.
I deserved someone who would love and respect me as much as I respect him. Someone who would accept me for who I was, without trying to change me.
Now, I know it hurts a lot, but it's time to walk away and move on.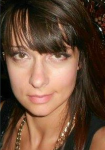 Riley Cooper is a professional writer who writes informative and creative articles on topics related to various fields of study. Written with love and enthusiasm, her articles inspire readers to broaden their knowledge of the world, think and get ready to act.
If you love, you will grieve—and nothing is more mysteriously central to becoming fully human. A 2017 Indies Finalist from Foreword Reviews. When a loved one dies, the pain of loss can feel unbearable—especially in the case of a traumatizing death th...
read more