July 8, 2018
Detox Your Body with Papaya and Pineapple – Step To Health
The body is the target of a lot of issues that can be avoided with just a little extra care. Today we'll teach you the first steps for cleansing your body with papaya and pineapple.
Papaya and pineapple will be the fruits of focus in this article. These are so delicious, and so rich in healing properties, that when you combine them you get much more than a simple beverage. These are amazing ways to burn fat and cleanse your entire body.
The high content of vitamins and low calories make both fruits able to cleanse your body of toxins and fight any conditions that are affecting your health. They also help speed up your digestion and feel full for longer.
Why try a detox diet?
Many of the foods you eat contain harmful substances from the environment, due to contamination. It's not just what you eat, either – it's also the things that you touch and the air you breathe.
You can minimize the damage those toxins cause by adopting a more conscious and healthy lifestyle. How will you do that? By incorporating cleansing and detox into your routine.
You might be interested in: 6 smoothies to eliminate toxins
In this sense, you can be sure that a cleansing or detox diet isn't just to lose weight – it's to eliminate any toxins that can damage your body. On the other hand, dropping a few pounds and having a better figure may be side effects of your decision.
Papaya and pineapple detox diet
A detox diet should last between three and six days and can help kickstart your healthy lifestyle. In this diet based on two fruits, you'll have to eliminate red meat, dairy products, saturated fat, and refined carbohydrates.
The primary source of nutrients will be smoothies made with pineapple and papaya, which you can accompany with other low-fat sources of fiber. You also have to drink a lot of water. Drink this smoothie in the mornings and before going to bed at night.
Properties of pineapple
Nutrition specialist Anabel Aragón, quoted by the news agency EFE, explains that pineapple facilitates the digestive process because it contains water and fiber. In addition, it provides minerals such as zinc, magnesium, and iron.
In addition to vitamins A, B, and C, pineapple is a potent source of natural antioxidants. It is also a diuretic and can control constipation thanks to the fiber and pectin content.
These properties facilitate your body's absorption of sugars, which helps you control your blood pressure and prevent cardiovascular disease and diabetes. In this sense, it can help you with weight loss.
Properties of papaya
Experts will explain that papaya contains up to 90% water. It has plenty of vitamins A, B, C, and D, among others.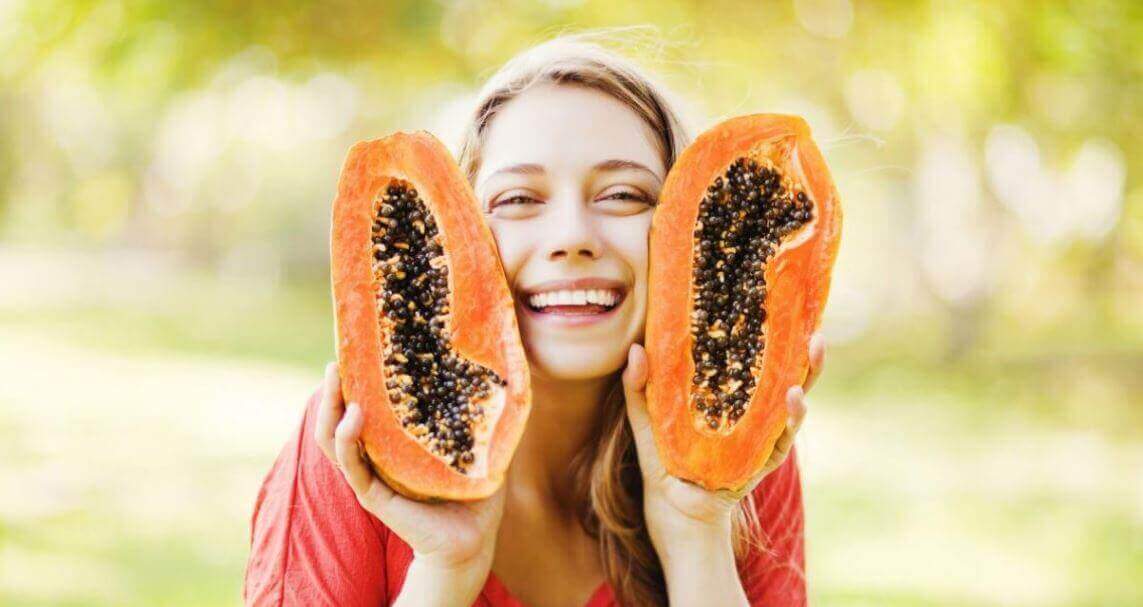 The vitamin C content is so high that you only need 100 grams of this fruit to get the daily required dose. Papaya is also rich in minerals like potassium, calcium, and magnesium.
Thanks to the papain, an enzyme, papaya improves your digestive processes.
Control your desire to eat
Thanks to the high fiber content, pineapple and papaya will fill you up. They're also very low in calories, making them perfect for controlling your appetite. This will help you achieve a healthy weight.
To regulate your food cravings, consume three servings of these fruits a day to achieve a balanced, healthy diet.
Papaya and pineapple smoothie
Ingredients
½ of a papaya
½ of a pineapple
2 cups of almond milk (or water)
1 tablespoon of honey
Ice, as needed
Cucumber or aloe, if desired
A must read: Lose weight every day with pineapple rind
Preparation
After washing all the ingredients, place them in your blender and process until you have a smooth, homogenous beverage.
Drink this smoothie for six days, at breakfast and at bedtime.
You can also add pineapple and papaya to your daily menu. Be sure to accompany them with whole foods that are low in fat.
Other ways to enjoy these fruits
In a cleansing diet you can enjoy pineapple and papaya in different ways. Here are some of the options you can try:
Grilled
Here they serve as a snack – cut some slices and skewer them, then set them on the grill for a tasty accompaniment to a main meal
In salads
Ad a different touch to your salads. Small pieces of these fruits with vegetable combinations can be dressed lightly with a vinaigrette.
Just like any cleanse, creativity is fundamental to success. The natural and healing properties of these fruits are clear, so don't miss out on this opportunity to heal your body and start a new lifestyle.
Package contains 1 Torani Strawberry Banana Real Fruit Smoothie Mix, 64 oz. Strawberry and banana: everyone's childhood favorite smoothie flavor. And there's a reason it's so popular. Bananas provide a creamy base - the perfect contrast to the juicin...
read more