July 7, 2018
Delicious Sweet and Sour Chicken Wing Recipes to Savor
Sweet and sour chicken wings are a fast, simple and delicious recipe. They're tempting for anyone's taste buds due to their crunch, flavor and aroma. You can fry or roast them, just the way your guest likes them. Wings should be crunchy on the outside and juicy on the inside. The final touch lies on how good the sauce.
Sweet and sour wings can make a perfect main dish.  Plus, they're a wonderful snack option. They go well with a bottle of wine, french-fries and some bread.
Just wash, season and marinate the wings and they'll be perfect. Cutting the wings in half is a good way to allow your guests to choose the part they like most. They'll look even better if you finish your dish off with a sprinkle of sesame seeds. 
Pineapple sweet and sour wings
Ingredients
1 cup of tomato sauce or ketchup (200 mL).
White vinegar and pineapple juice (to taste).
1 teaspoon of cornflour or other thickener (5 g).
10 chicken wings cut in half (1 kg).
2 tablespoons of brown sugar (30 g).
Sesame seeds, salt and black pepper (to taste).
Mustard and Worcestershire sauce (optional).
1 or 2 rings of fresh pineapple.
Frying oil.
Instructions
Wash the chicken wings, removing any feathers or nails.
Season the wings with salt and pepper. If you want to use mustard and Worcestershire, add to wings in this step. You can get a stronger flavor by marinating the wings for at least an hour. Marinate in the fridge, storing the wings in a container with a lid.
Heat up some oil in a frypan. Fry the wings until they're golden brown, you can also choose to roast them in the oven. Move to a bowl.
In the same frypan, add the tomato sauce, sugar, vinegar and pineapple juice. Add the fruit, previously cut into to small cubs as well.
Mix continuously, gently. When the mixture beings to boil, add the cornflour, previously dissolved in water– it should be free of crumbs. Keep stirring until the sauce thickens.
Add the wings to the sauce and cook for 5 more minutes over low-heat.
Remove from heat and arrange wings onto a tray. Sprinkle with the sesame seeds. You can serve them with rice, potatoes or bread. A vegetable puree would also make a great side dish.
Honey Lemon sweet and sour wings
This is another great option for a starter. It has a fun combination of flavors, mixing savory, sweet and sour.
Ingredients
Chicken wings (1 kg).
Garlic (2-3 cloves, 30 g).
Honey (4 tablespoons, 60 g).
Rosemary, salt and black pepper (to taste).
Soy sauce (4 tablespoons, 60 g).
Olive oil (4 tablespoons, 40 g).
Lemon juice (4 tablespoons, 80 mL).
Instructions
Wash and dry the chicken wings.
Blend the honey, soy sauce, garlic, oil, lemon juice and salt in a food processor. Also, add the black pepper. 
Place the wings in a baking pan and cover them with the mixture and rosemary springs. Mix to thoroughly cover all the wings and let them sit for 1 or 2 hours.
Drizzle some oil on the wings and place the pan to the oven. Bake for 45 minutes.
Flip the wings occasionally to prevent them from sticking to the pan. Make sure to bake in a preheated oven (200°C).
Asian style sweet and sour wings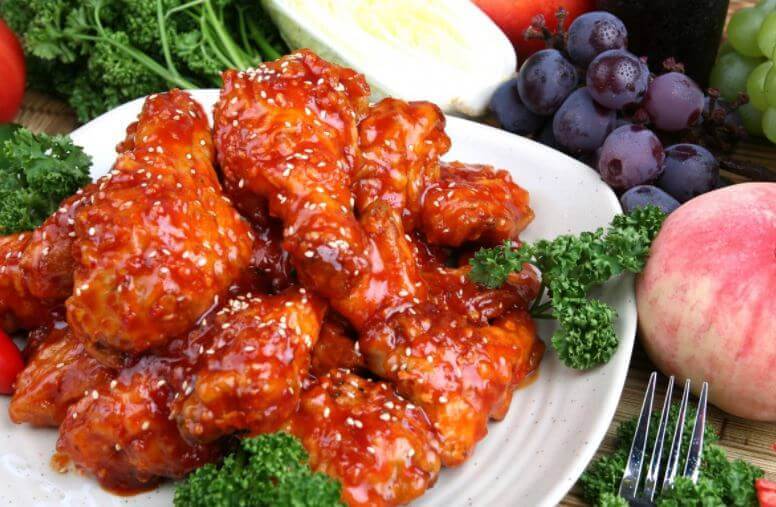 Ingredients
1/2 kilo of chicken wings.
Water (4 tablespoons, 80 mL).
Soy sauce (1 tablespoon, 15 g).
Cornflour (1 tablespoon, 10 g).
Orange juice (3 tablespoons, 60 mL).
Tomato sauce or tomato paste (1 tablespoon, 15 g).
Instructions
Wings
Wash and dry chicken wings.
Season with salt and pepper to taste.
Fry in hot oil until golden brown. Let them cool while you prepare the sauce.
Sauce
Dissolve the cornflour into a little bowl of water, making sure it doesn't have any crumbs. Set to the side.
Combine the sugar, vinegar, tomato paste, soy sauce and orange juice in a pot and cook on the stove.
When the sauce is about to boiling, mix in the corn flour. Stir for two minutes until the sauce thickens.
When the sauce is ready, turn off the heat and let it cool. Pour the wings on top or simply serve in a dish on the side as a dipping.
Sugar free whiskey sours, anyone? How about some guilt-free Long Island iced teas, lemon drop martinis, Mai Tais, or a round of low carb daquiris?With Baja Bob's Sweet and Sour Sugar Free Cocktail Mix, it's all possible for your best parties, get-tog...
read more